News & Updates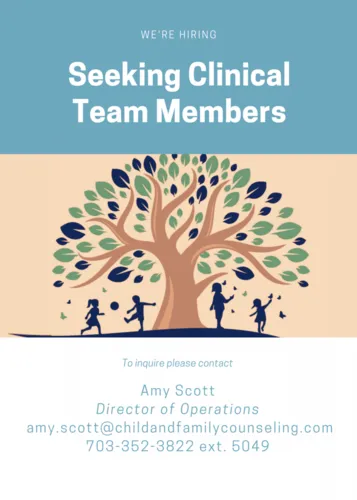 The Journey Begins Here
"Collaborating to create healthy children, families, and communities one visit at a time."
The Child & Family Counseling Group is located in Fairfax, VA. We collaborate with you to support healthier and happier lives. We know that this is an important time in your life. As you become familiar with our practice and mission, we hope this website will give you access to as much information as possible.
CFCG understands that mental health is important at every stage of life, from childhood and adolescence through adulthood. CFCG offers a qualified team of Psychiatrists, Psychologists, and Clinical Social Workers who are committed to providing the highest level of comprehensive diagnostic and therapeutic services. We aim to provide service under four main values, Commitment , Excellence , Collaboration and Respect. Services we offer include treatment for difficulty with focus , neuro-psychological testing , mental health therapy , and more.
P lease click on Services to learn more about how CFCG can assist you and your family. Click on Meet our Staff to learn more about our providers. If you are a new patient or need access to forms please click on Patient Information . If you are in need of directions please scroll to the bottom of this page to gain navigation. The more you know, the more comfortable we hope you and your family will be with our practice. If at any time you have any questions, please do not hesitate to contact our office. Our A dministrative staff is eager to assist you Monday-Friday 9 am- 5 pm, or at any time please send us an email and we will respond as quickly as possible. To connect with a provider directly, please visit Meet our Staff. We look forward to working with you and your family along this journey.