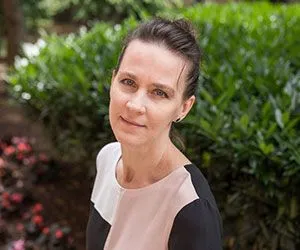 Oxana Jourkiv, M.D.
Board Certified in Adult Psychiatry
Board Certified in Child and Adolescent Psychiatry
Dr. Oxana Jourkiv attended medical school in Kiev, Ukraine at the Ukrainian National Medical University and graduated in 1994 with a Medical Degree specializing in Pediatrics. She completed her Adult Psychiatric Residency Training Program at St. Elizabeth's Hospital and Child and Adolescent Psychiatry fellowship program at Children's National Medical Center in Washington, DC.
Dr. Jourkiv also completed a fellowship at Baltimore-Washington Institute for Psychoanalysis and was part of the clinical research group Genetic Branch at the Naval National Medical Breast Care Center.
Dr. Jourkiv provides Diagnostic Evaluations, Psychotherapy and Psychopharmacology services for children, adolescents and adults. Her unique experience and interests include working with patients with Attention Deficit Hyperactivity Disorder (ADHD), Mood Disorders and Anxiety.
She is fluent in English, Ukrainian and Russian. Dr. Jourkiv has been working with CFCG for 10 years. She is available Monday through Thursday and typically one Saturday a month. Please contact our office for availability.
To contact Dr. Jourkiv: (703) 352-3822 ext. 1013 | Email: [email protected]