Mission Statement
The mission of the Child & Family Counseling Group, is to provide services that empower clients to experience growth, accomplishment, and an opportunity to enhance their lives. We offer a qualified team of Psychiatrists, Psychologists, and Clinical Social Workers who are committed to providing the highest level of comprehensive diagnostic and therapeutic services to children and families while focusing on Commitment, Excellence, Collaboration and Respect.
Our Location
10521 Rosehaven Street, Suite 100 Fairfax, VA 22030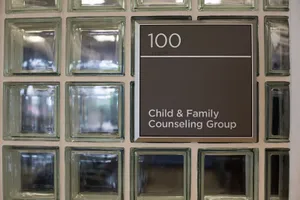 Office Polices & Procedures
Cancellations/Appointment Changes:
If you need to cancel or change an appointment, we ask that you call our office 48 hours before your appointment to avoid a late cancellation or missed appointment fee. We reserve the right to charge the full amount of your scheduled appointment in the event of a Late Cancellation or Missed Appointment. You may also utilize email or our confidential voicemail to notify of cancellations in the event a staff member is not available. For questions about any accrued fees, please email your provider.
Prescriptions:
For non-controlled substances, please contact your pharmacy for refills. If, no refills remain or if the prescription is a controlled substance, please contact the Administrative Staff (Monday-Friday 9 a.m.-4:30 p.m.). Outside of those hours, please contact your treating Psychiatrist via email. Please be sure to indicate your medication(s) name, dosage, your pharmacy, date of birth, any known allergies, and your next scheduled appointment (if applicable). Please note that 90 days scripts may require filling at your appointment.
Inclement Weather:

In the event of inclement weather, please contact our office for changes in your appointments. In the event of an office closure or change in schedule, we will notify scheduled patients as quickly as possible.
Changes in Information/Demographics:
If you have any changes to your name, address, phone number or pharmacy, please call or [email protected] the Administrative Staff.
Address/Contact Information:
Address: 10521 Rosehaven Street Suite 100 Fairfax, VA 22030
Phone: 703-352-3822 Ext. 1
Fax: 703-385-8353
Email: [email protected]
(Please click here for individual provider contact information)