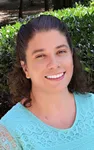 Stacy Paggi, M.D.
Adult Psychiatry, Child and Adolescent Psychiatry
Dr. Stacy Paggi received a degree in Psychology and Biology from Binghamton University, and then, her medical degree from Upstate Medical University. She moved from New York to Northern Virginia for her Adult Psychiatry Training at Georgetown University Hospital in 2001. She graduated from her Child and Adolescent Psychiatry Fellowship from Children's National Medical Center and began working at CFCG in June 2006. She currently resides in Northern Virginia with her husband and two children.
Dr. Paggi provides outpatient care in the form of Diagnostic Evaluations, Psychotherapy, and Psychopharmacology services for people from birth to middle age. She has special experience in working with Anxiety Disorders, Affective Disorders, Behavioral Problems, Autistic Spectrum Disorders, and Eating Disorders. She has a particular interest in early intervention mental health with experience in treating toddlers and preschoolers, as well as depressed or anxious mothers and mothers-to-be. Dr. Paggi specializes in Psychotherapy with teenaged and young adult women.
Available Monday-Thursday, days and evenings. Please contact our office for availability.
Contact Dr. Paggi: (703) 352-3822 Ext. 1016 | Email: [email protected]