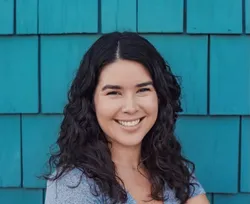 Ashley Thorpe, LMSW
Supervisee in Clinical Social Work
As a licensed master social worker, Ashley strives to create more compassionate and safer spaces for mental wellness, especially for youth and families. She has experience providing clinical services at the inpatient and community level. Ashley uses strengths-based, trauma-informed, and holistic approaches with therapeutic interventions of mindfulness, Dialectical Behavioral Therapy (DBT), and Cognitive Behavioral Therapy (CBT). Ashley has experience supporting individuals and groups with managing anxiety, depression, suicidal ideation, self-harm, substance misuse, interpersonal trauma, family and relationship distress, and social stressors.
She is committed to social justice and healing-centered practices. She is passionate about reducing stigma surrounding mental health and helping people strengthen their resiliency and coping skills. She is skilled in case conceptualization and working across different psychiatric, medical, and social disciplines to best support her clients and their families/caregivers.
Ashley earned a Bachelor of Social Work and Minors in Gender & Women's Studies and LGBTQ Studies from the University of Wisconsin-Madison. She continued her education at the University of Washington-Seattle, earning a Master of Social Work with a concentration in Community-Centered Integrative Practice.
Ashley Thorpe is a Supervisee in Clinical Social Work (VA License: 0906013378) under the Supervision of Peter Gross, LCSW (VA License: 0904002144) at Child & Family Counseling Group.
Contact: [email protected]